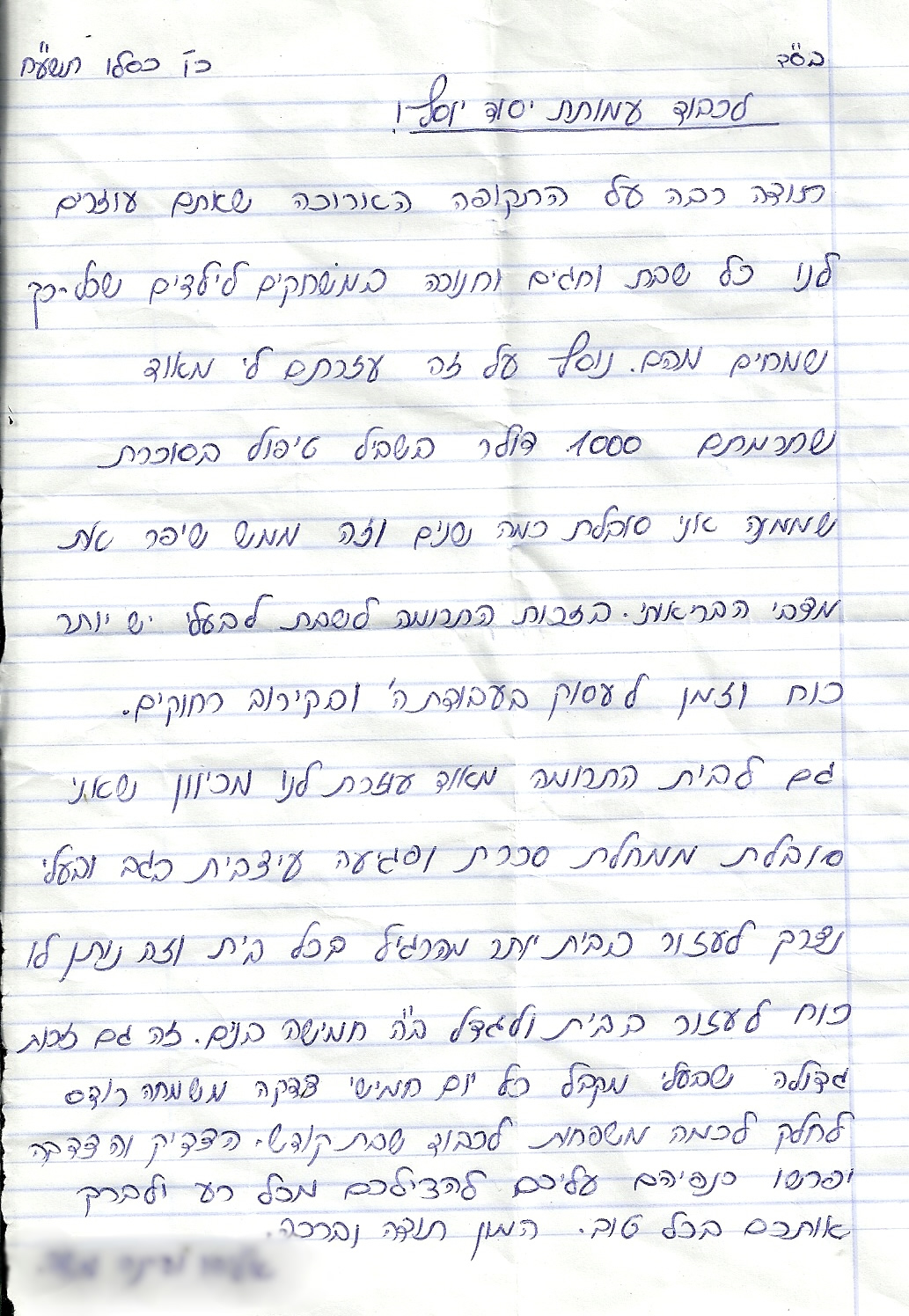 BS"D         26th of Kislev 5778
Dear Yesod Yosef Fund!
Thank you very much for the long time period that you have been assisting us each Shabbos and Holiday, also on Chanuka with gifts for the kids, that makes them so happy. Beyond this, you helped me greatly when you donated $1000 for a treatment for my diabetes, from which I have suffered from for many years and this treatment greatly improved my physical health.
Because of the Shabbos donations my husband has more energy and time to spend serving Hashem and doing Kiruv. Your donations  greatly help our household since I suffer from the diabetes sickness and from a neurological condition in my back, obligating my husband  to help around the house much more than is needed in the average home, this gives him energy to help in the home and to B"H raise our five boys.
We also consider it a big merit for us that my husband helps Yesod Yosef distribute each Thursday charity for Shabbos to another few families. The Righteous and the Charity should spread its wings upon you, to save you from all evil and to bless you with all good.
Much blessing and thanks,
Family of Seven, Tzfat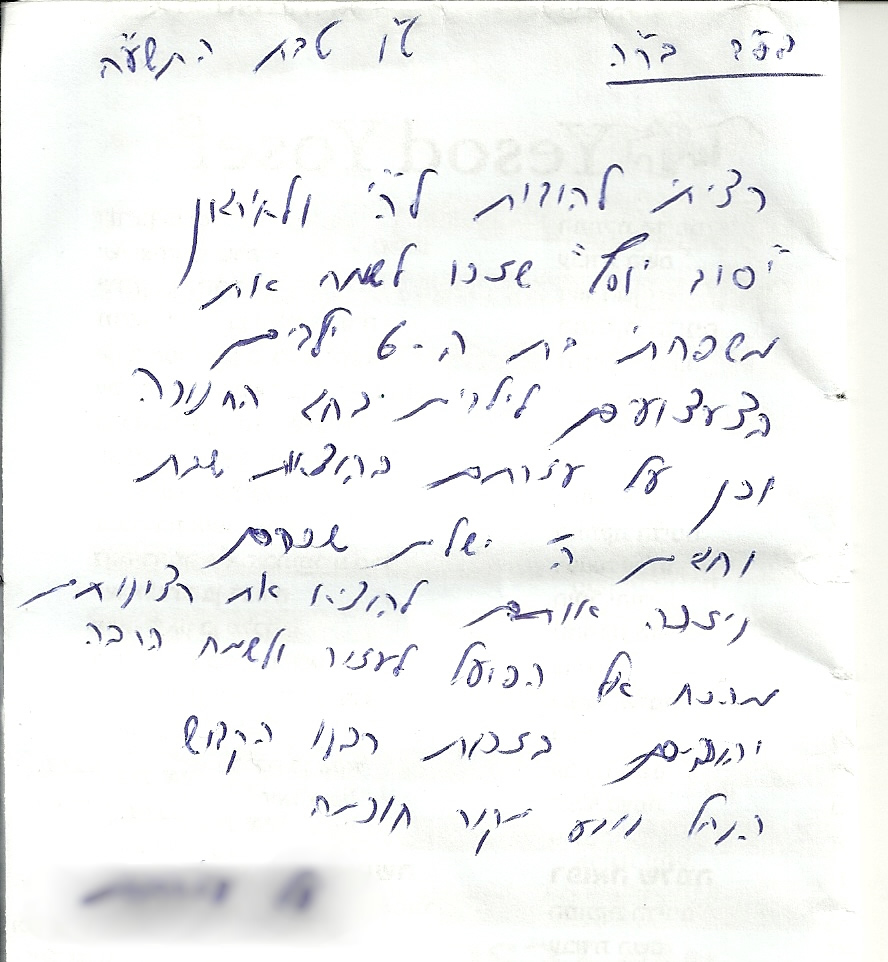 BS"D
15th of Teves 5778
I would like to thank Hashem and the organization "Yesod Yosef" that merited to make joyous, my family of 6 children with toys for the kids during the holiday of Chanuka and also for their assistance with Shabbos and Holiday expenses. Hashem should pay their reward and meit them to bring their plans into actual action, to help and make joyous many Jews, in merit of Rabbi Nachman of Breslov – the flowing stream sourcing wisdom.
Family of Eight, Tzfat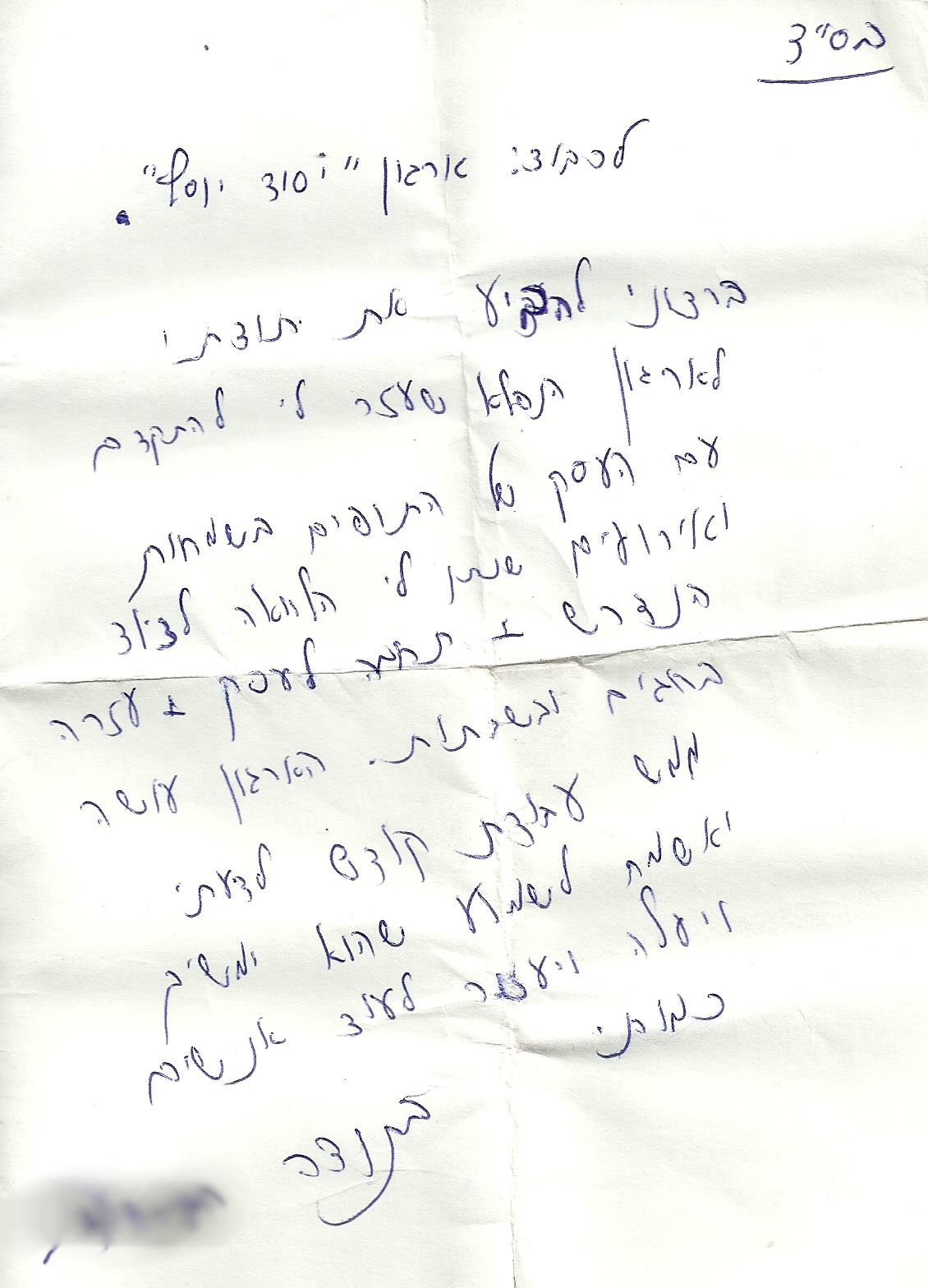 BS"D        
Dear 'Yesod Yosef' Organization,
I would like to express my thanks to this wonderful organization that helped me progress with my business of drumming at Simchas and events, for giving me a loan for the needed equipment + a donation to the business + help for Holidays and Shabbatot.  The organization does real Holy Work according to my opinion and I will be happy to hear that it continues and grows and helps other individuals like myself.
Thanks,
Family of Seven, Tzfat
BS"D
My name is ———    ———–  I live in the holy city of Tzfat but didn't grow up here. I was raised in a secular upper middle class family and town in the suburbs of NY. After a long and beautiful path of exploration guided by Hashem's Chesed I became a 'baal Teshuva'.
Today I have the zchut to sit and learn in kolel and try to make up the many years of lost time in the service of Hashem.
I have no material complaints but on a practical level when there just isn't a way for me to make our Shabos grocery shopping, the help and generosity of the 'Yesod Yosef' organization it truly felt. 
Be it on Friday for Shabbos or help on the holidays, or chanaka to buy a small gift for my 5 blessed kids.
Especially the humility in which the financial help is given is heart warming and the fact that together with the donation we get a list of the worthy donors which my wife and I pray for and get to feel like we are giving back as well.
For this I wish to thank you and bless you with all the Blessings.
Family of Seven, Tzfat